Unique Soft Water Technology
The Orbit Soft Water shower head uses a unique combination of metals plus the principle of turbulence, to force the water flow through the unit where an electro-chemical catalytic reaction occurs.

The result is that previously 'hard' minerals are changed from being large molecules into inactive, microscopic mineral particles. The electrical charge of the minerals is lowered which reduces the surface tension of the water and makes it softer.


Innovative technology, which enhances every-day products. Saving water and using recylced materials.
1,000,000 Ecocamel Shower heads sold worldwide
Thousands of other customers can't be wrong, plus we offer a 60 day, better shower guarantee.
Ecocamel shower heads can save you money as soon as you take your first shower with them.
Free Shipping with all orders.
More powerful, saves water and comes with an integral water softener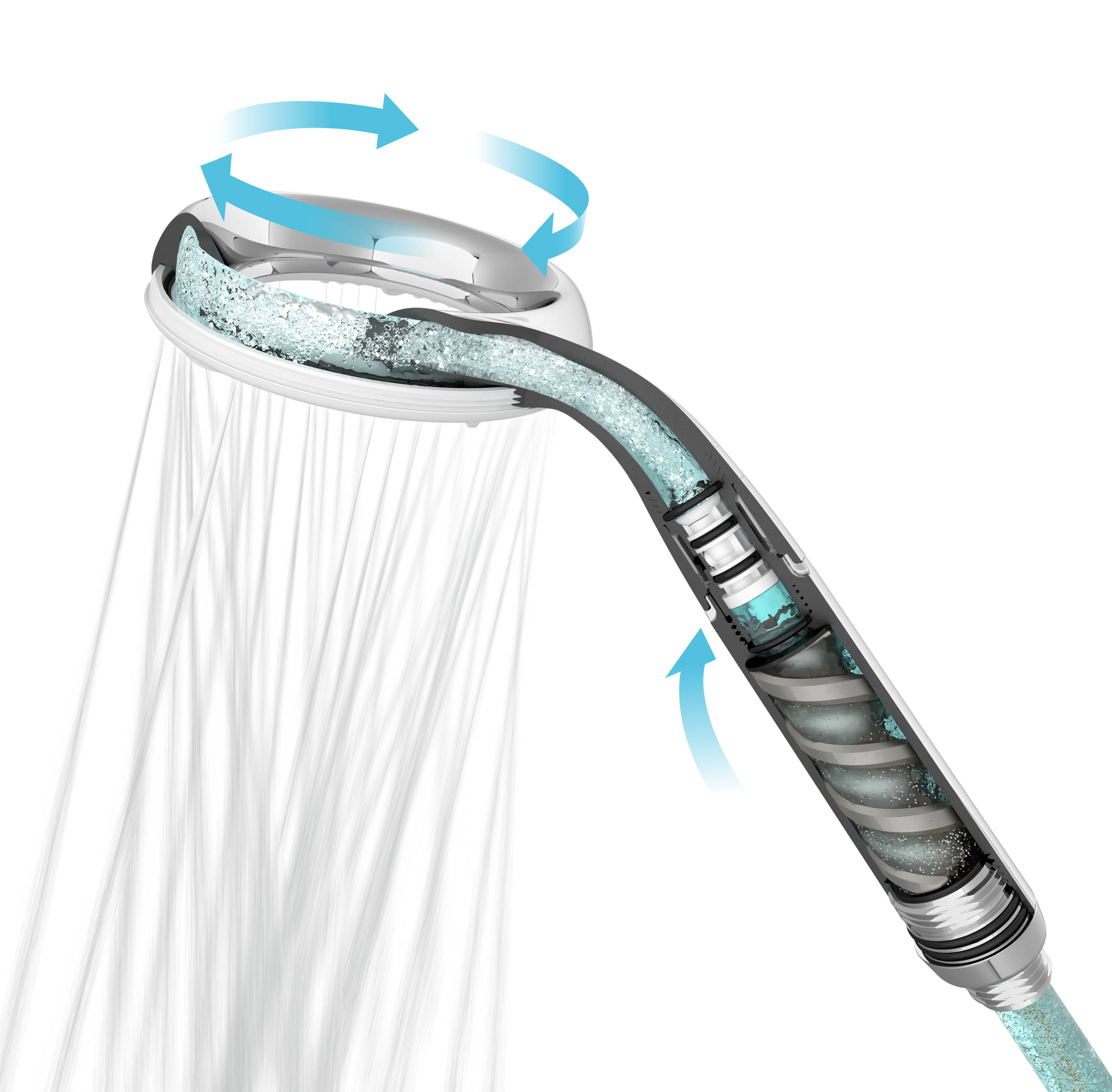 As well as providing a powerful, spa-like shower sensation, the Orbit shower head's pioneering AirCore technology is proven to use considerably less water compared to other leading shower head brand.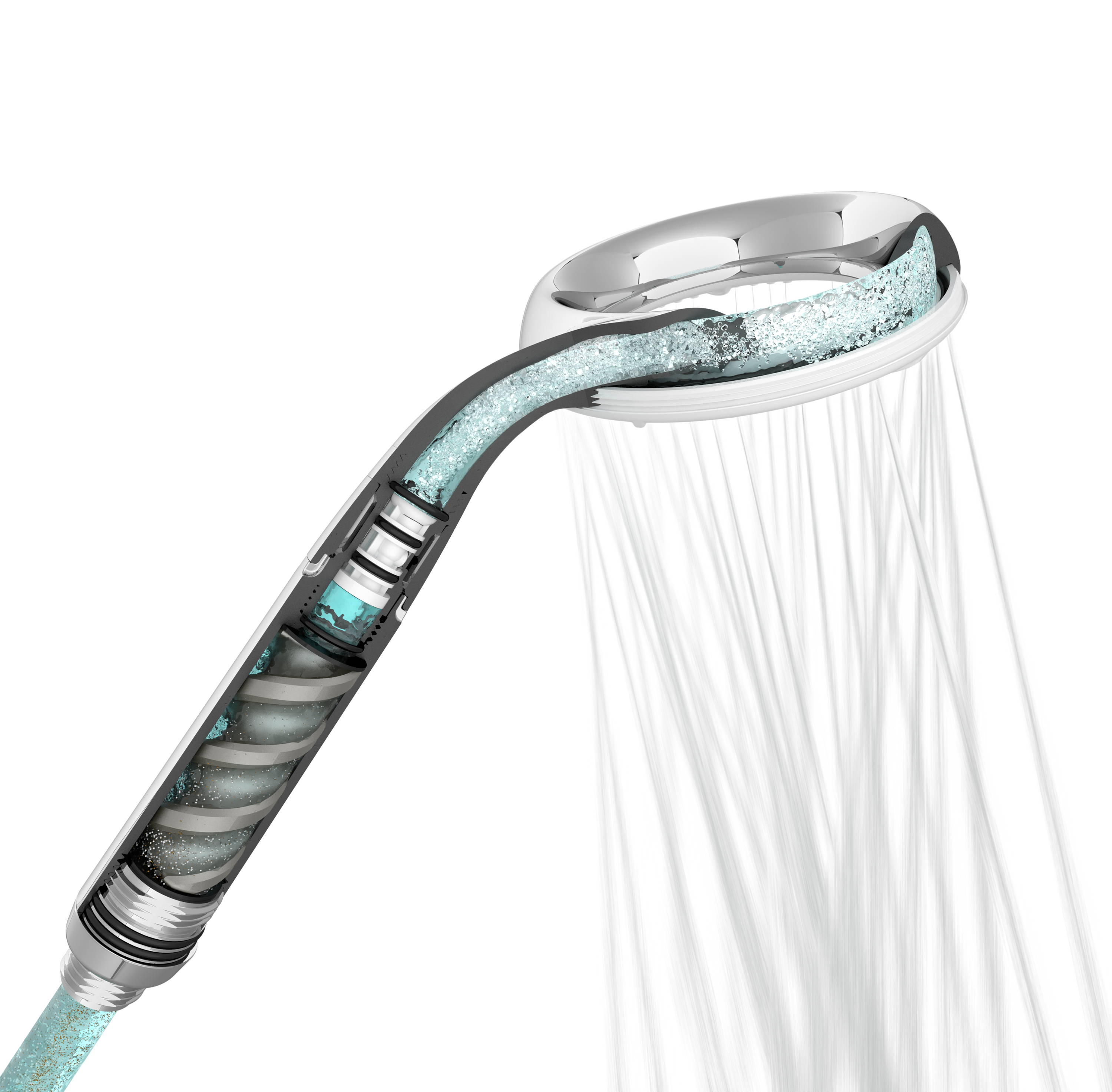 The ground-breaking new Orbit soft water shower head combines incredible aesthetics with unbeatable performance. Its striking halo-shaped design has ten clusters of wipe clean rubber nodules in a unique 'bicycle spoke' pattern to provide a powerful and even spray.  
Unique combination of metals alloys generates an electro-chemical catalytic reaction.
The Orbit Soft water shower head uses Ecocamel's new SoftWater Technology to force the water through a special unit which makes the water softer and kinder to your skin by changing 'hard' minerals into inactive particles and reducing the surface tension of the water.
Better still, this softening process doesn't use chemicals or salts, or use any filters so is maintenance free. Changing the existing shower head in your home is easy - simply unscrew the existing unit and swop it with the new Ecocamel Orbit SoftWater unit.
Like all its shower heads, the new Orbit SoftWater model uses Ecocamel's AirCore Technology to force air into the water stream to cause turbulence which then increases the water pressure.
Conveniently, Ecocamel shower heads also use less water so are more efficient and eco-friendly, but also preserve your usually limited water reserves, so you're less likely to run-out before you've finished showering – or you can just relax and enjoy a longer, more powerful shower.
People love Ecocamel Shower Heads
"The combination of softer water and the powerful spray put the Orbit at the top of the list of best showerheads available for motorhomes. The Orbit softwater takes showering to a higher level. Bringing smiles to those who relish skin stimulation and dislike the maladies associated with hard water."
Bob Livingstone, Motorhome Magazine

We have extremely hard water. We've only been using this new Softwater Technology a few days and I can already tell a difference in my daughter's waist length hair! It's so much softer and not nearly as dry. Such a welcome change for a little diva! I'm anxious to see if this shower head will improve the discoloration and film that comes along with hard water. I have very high hopes after seeing the differences it's already making!

Beth Longley, This lady blog
There is no doubt that this thing worked extremely well. After just a couple of days using it on our skin (the rubber bristles are completely washable, so its okay to share) we can feel a definite difference. For a group of people who never exfoliated anyway, the results have shown quickly, with cleaner, softer skin all round. And as the hard water levels have been reduced our hair is in a better state, too. And hey, we use a water filter for our coffee, so why not our skin?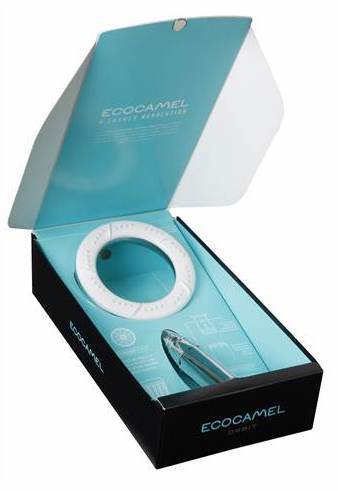 Frequently Asked Questions
I have a power shower / Combi boiler. Can I use an Ecocamel shower head?
Yes, the Ecocamel shower is ideally suited for use with power showers / combi boilers as the bar pressure tends to be good.
I have a gravity fed system with poor bar pressure. Can I use an Ecocamel shower head?

Yes, the Ecocamel shower is ideally suited for use with power showers / combi boilers as the bar pressure tends to be good.
I live in a hard water area. Are Ecocamel shower heads suitable?
Yes, our shower heads are easy to maintain and clean. Frequent cleaning can be achieved quickly by rubbing the nozzles with your thumb. If this does not clear the limescale completely then we recommend that you soak your shower head in white vinegar or a limescale cleaner. Sometimes you will notice water starting to dribble out of the air intake hole when the shower head is in use. This is a sign that the limescale is blocking the holes in the face plate.
How long is my Ecocamel shower head guaranteed for?
Ecocamel shower heads have a 2 year guarantee. they are not guaranteed against the build-up of lime scale which can be resolved by cleaning their shower head.
Enter your email and receive 10% off your first order.